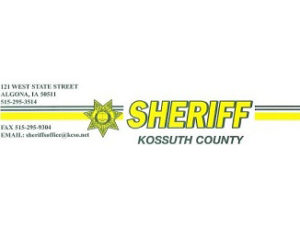 Kossuth County Sheriff's Office
121 West State Street
Algona, IA 50511
Minimum requirements and job description are available upon taking out an
application. Applications can be picked up at the Kossuth County Sheriff's Office
Monday – Friday between 8:00am & 4:00pm or email request for application and
job description to sheriffsoffice@kossuthcounty.iowa.gov. Wages range from
$36,600 – $39,200 within first year with full benefits. Application deadline is
4:00pm on Wednesday December 8, 2021. Kossuth County is an equal
opportunity employer.